Solar Panel System For Residential House
Views: 4 Author: Site Editor Publish Time: 2022-09-23 Origin: Site Inquire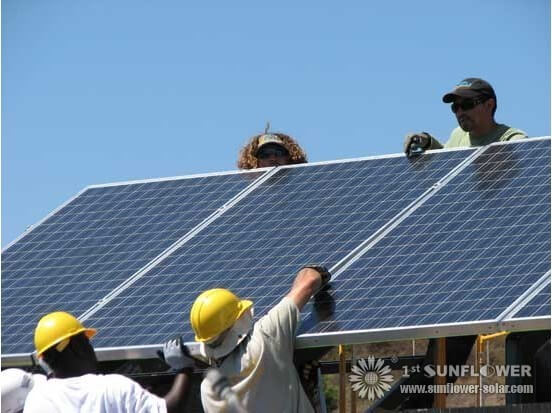 [Abstract]
Solar power systems are the ideal way to produce their own electricity, cut monthly energy costs, achieve energy independence, and even completely off the grid.
Available in small and large sizes, these systems are available in custom sizes to give you maximum independence and energy savings. In many areas, the electricity generated can even be sold back to the grid for more savings or profits.
[Text]
Benefits of Solar Power PV Systems
Cut your electricity bills: The energy from the sun is free, so once you pay for the initial cost of a solar PV system, you get it for free – and don't need any fees.
Selling energy to the grid: With grid-tied PV systems, you can usually sell energy that you don't use to power companies (also known as State Grid). This usually causes the power company to pay you credit and even income.
Contribute to a clean environment: all forms of solar energy are clean and help reduce the carbon footprint. Unlike fossil fuels, renewable energy sources do not release harmful gases or pollutants. By installing a solar PV system, you can reduce your personal carbon footprint and help maintain a clean environment in the planet.
Energy independence: Solar PV systems provide you with independence and freedom from rising electricity costs and increased costs. Many systems can be configured to provide power during storms, power outages and other power outages. Without noisy or expensive gas generators, or inconvenient power losses, solar PV systems can provide you with the energy you deserve.
How A Solar PV System Works
(1) When sunlight illuminates the solar array, the panel starts generating electricity. The electricity generated by the photovoltaic panels is direct current (DC) power. In order for your home to use this energy safely, you must first convert it from DC to AC (alternating current), which is used today by most families.
(2) The DC power is fed into the solar inverter, where it is converted from DC to AC, so the power is compatible. Different types of solar inverters are used depending on the application.
(3) Then input AC power into the service panel to power various loads, such as lights, refrigerators or TVs.
(4) When excess power is generated (you generate more electricity than you use), excess power is delivered through your utility meter. In some areas, there is a separate utility meter for producing electricity.
(5) Then, this energy is fed back to your grid and the power company will buy back from you. This can result in energy credits that you are not using, or generate revenue in certain areas.
(6) This is just one example of a grid-connected solar photovoltaic system. Other configurations, such as off-grid systems or systems with battery backup, are also used. However, the grid-connected system is by far the most commonly installed photovoltaic system.
【Conclusion】
Sunflower provides complete home solar power photovoltaic systems throughout the world. These solar PV systems are carefully designed and packaged for seamless integration into your home's current grid.
These packages come in a variety of sizes and power outputs, allowing you to generate your own power for free and cut your electricity bills - whether your power consumption is small or large.
For further details, please check
https://www.1stsunflower.com/SFM-OFF-Off-Grid-Solar-Panel-System-pd49963557.html