Should You Choose A Solar Attic Fan
Views: 0 Author: Site Editor Publish Time: 2021-10-25 Origin: Site Inquire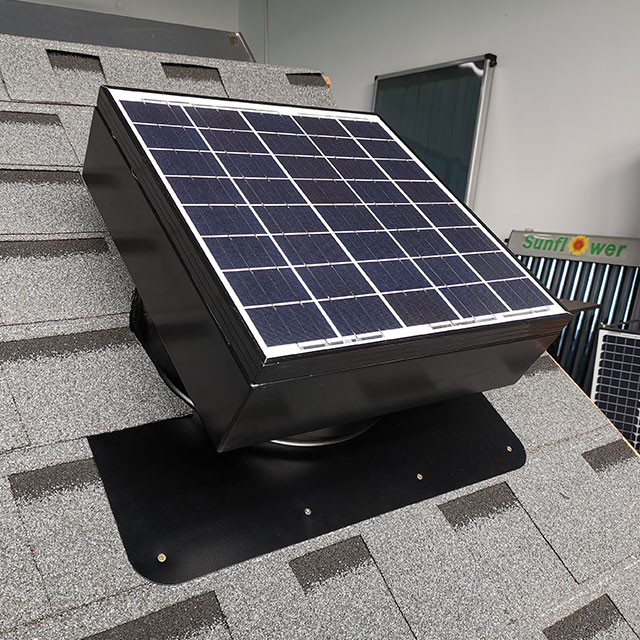 [Abstract]
Many homes use the loft to store a variety of items: seasonal decorations, old toys for children, basic souvenirs, and other items that you may not use often. If there is no attic fan, the space may become extremely hot, especially during the summer months. Heat is more than just trouble. It can also damage your stored items, even the roof. Over time, the heat transfer between the interior of the attic through the asphalt roof can wear or distort the shingles.
A high temperature attic may also increase the cost of refrigeration for the rest of the home, as the trapped hot air will warm the ceiling inside the house and require the air conditioning system to provide more heat. Consider using a solar attic fan when you decide to purchase an attic fan system or consider upgrading your current system. As with any home improvement item, solar penthouse enthusiasts should consider some pros and cons before investing.
[Text]
Advantages of Solar Attic Fans
Renewable Energy
The biggest benefit of a solar attic fan is that it relies on solar power. This will reduce electricity bills and further reduce the carbon footprint of your home to the environment compared to the standard attic fan model.
Energy Efficient
In addition to the energy saved by solar power from fans, having a cooler attic space can also reduce the energy requirements and costs of the rest of the home.
Work Hardest When You Need It
Because solar attic fans use sunlight as energy, they are most effective in the hottest, hottest days (the days when you most need the solar attic fan assistance).
Improved Appearance
Most solar-powered attic fan models tend to give a better appearance on the outside of the home compared to other powered or passive models.
Disadvantages of Solar Attic Fans
Higher Upfront Cost
One disadvantage of solar attack fans is that they do have higher upfront costs than standard models. However, due to the significant energy savings, you may quickly recover these increased costs.
Require Direct Sunlight
As noted, solar attic fans save money by using solar energy for power, rather than electricity. However, this method may not work for all homeowners. Depending on where you live, you may not be able to rely on solar power. You will want to consider how much direct sunlight the solar panel will be exposed to, and also how much cloud cover you can expect, before you commit to a solar attic fan.
Power
Solar attic fans are not as powerful as standard motor-based fans. However, this may be beneficial, as more powerful models may cause excessive negative pressure in the smaller home space and take the air conditioning out of the house, making it cooler. Solar fans are more powerful and more efficient than passive airflow models without increasing electricity bills.
【Conclusion】
Should You Choose A Solar Attic Fan?
To make the right choice for your home, a detailed analysis and inspection of the home is required, which can be provided by a solar attic fan expert. This way, you can find the right option for your home based on the region of your country and the unique layout and requirements of your home.