What is a double glass solar panel? What are the advantages?
Views: 13 Author: Site Editor Publish Time: 2020-10-30 Origin: Site Inquire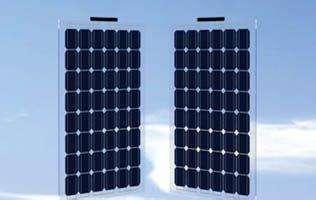 【Abstract】
Solar panels have developed rapidly in recent years. Several first-tier manufacturers at home and abroad have successively launched related products, and "Double Glass" has become a hot spot in the solar industry. Excellent and reliable power generation efficiency and high power consumption are the biggest advantages of double-glass solar panels. So what is a double glass solar panel? What are the advantages?
[Text]
1. What is a double glass solar panel
 The double-glass solar panel is a photovoltaic module composed of two pieces of glass and battery, replacing the backplane and aluminum frame structure of traditional solar panels. The photovoltaic glass used in the early days is difficult to balance between price, strength, weight, light transmittance and other factors, so there is no mass production; but with the advancement of photovoltaic glass technology in recent years, it has been able to produce more affordable prices , Products that are strong enough and not too heavy, improve the quality of photovoltaic modules.
2. Main advantages of double glass solar panels
 The average life span can reach 30 years, which is longer than the 25 years of conventional components. The life cycle power generation is about 21% higher than that of general components.
 The power generation degradation rate is about 0.5%, which is better than general components, which are almost impermeable, corrosion resistant, weather resistant and fire resistant. It can be used in high humidity areas, agriculture/fishing and light complementary projects, acid rain areas, high salt fog areas, etc. In addition, double-glass solar panels are more wear-resistant than general components and can resist wind sand. The high strength of glass can reduce the problem of snail pattern cracking. No aluminum frame design can reduce PID attenuation rate.The insulation of glass is better than that of metal backplane, so the double-glass solar panel can accept higher system voltage and reduce the overall construction cost of photovoltaic power station.
【Conclusion】
According to the analysis, the double-glass solar panel adopts photovoltaic glass on both sides, so it can greatly improve the performance of water resistance, corrosion resistance, rust resistance, fire resistance, wind sand abrasion, etc., so that its versatility is improved. When the EVA resin used in the module and the silver wire printed on the battery are matched with the double glass module, it can effectively avoid the deterioration caused by moisture. Therefore, the power generation efficiency of the module is reduced, and the problems such as PID and snail pattern are also reduced. Maintain the stable quality of photovoltaic modules.
 In addition, the double-glass solar panels have better light transmittance, and their light-transmitting properties also make the double-glass solar panels more suitable for integration with general buildings, and can take into account power generation, beauty and lighting.