This month's Council on how to Greenify your home - solar water heaters
Views: 1501 Author: Sunflower Publish Time: 2012-04-27 Origin: Site Inquire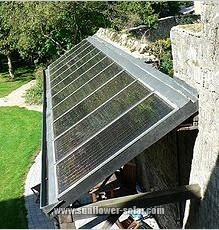 If you live in California, this will be easy. Californians already have a reputation for his work to help the environment (emissions laws are known, for example), and the next step seems it fits perfectly: solar water heaters.
It is already hot, rather than direct to the Heat
The CSI (which is California Solar Initiative, not the bloody police procedural) has launched its programme of thermal, encouraging all Californians to use the Sun to heat the water. The program has 4 administrators - California, Center for the sustainable energy (CCSE), Pacific Gas & Electric Company (PG & E), Southern California Edison Company (SCE), and Southern California Gas Company (SoCalGas) - all of which are cooperating in the State - wide publicity campaign.
Gwen Marelli, Director of commercial services and industrial (SoCalGas), points out the time in which the program is deliberate:
Details, details, details
While solar heating of water is already widely available, project CSI thermal means that customers of the four companies mentioned above (get rebates of up to $1875, is not bad) for a unit of solar heating in a detached house. The owners of commercial and multifamily to receive up to $500 k buildings.
Of course, the requirements must meet to obtain reimbursement in fact - the amount of energy that the system shifts is a factor, as well as the speed with which the system is paid. Andrew McAllister, Chief Executive Officer of CCSE, believes that the rebate will be drive the business:
"This type of discount encourages owners of homes and businesses to take the next step in energy conservation and efficiency, and help to build a sustainable future for California." Now is the time to learn more about solar water heating and the program of CSI-thermal "."
By heating Solar of water?
Solar water heating does not replace a standard water heater - but that is incorporated into the new system. The Sun's energy is used to heat the water, which is then stored. As the hot water is pulled from the conventional boiler, the water heated with solar energy which replaces.
Gary Barsley, solar energy and the selfgeneration of the SCE Program Manager, says that this warming on solar energy:
"The Sun's heat energy is clean, abundant, and solar water heating technology is efficient." That makes solar systems of heating of water in a smart way to generate hot water for your home or business. "
However, one further step on the road to a House very efficient or business.