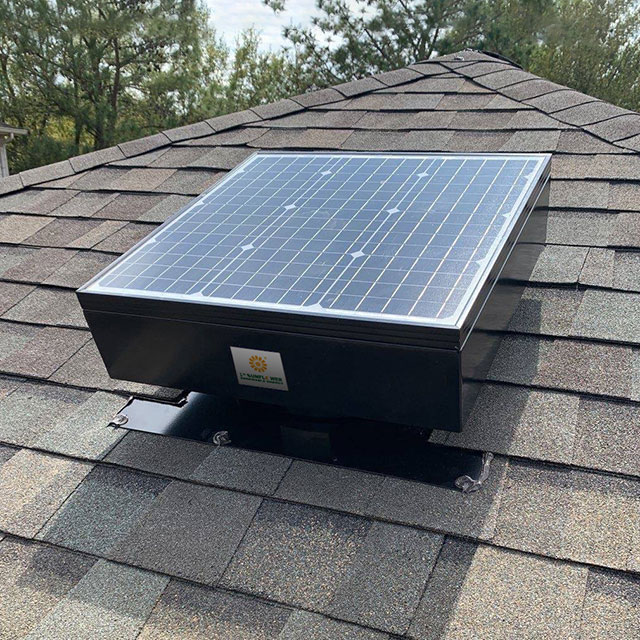 Solar fan is a ventilation device that uses solar panels to convert solar energy into electrical energy and drive the motor to operate.
When there is sunlight, the solar panel will absorb the sunlight and convert it into electrical energy to be supplied to the motor to drive the fan blades to run. As long as it is installed on an unobstructed roof position, the fan will always work.
When it is cloudy or rainy or there is no sunlight, the solar panels will be affected. Don't worry! If there is a requirement for ventilation, you can configure a power adapter to connect the city power when there is no sunlight, so that the fan can work normally.
In summer, the heat rise will gather in the top attic. The attic cannot get timely heat dissipation, which not only increases the temperature of the house, but also increases the load of the air conditioning system in the living area. Once solar attic fan is installed, it will continue to be in a state of ventilation, taking away the heat in the attic, reducing the temperature of the house, and providing a more comfortable living environment for the occupants.
In winter, the warm air rises from the living area to the attic, where it will come into contact with the cold underside of the roof. When hot air comes into contact with the roof, it will condense, causing the roof structure to rot and mold. This will cause serious damage to the roof material and affect the service life of the roof. Once the roof fan is installed, it will balance the temperature of the attic, avoid the accumulation of heat and moisture, and reduce the growth of mold .
If your house needs to install solar roof fan, Sunflower Solar will provide you with a suitable solution.